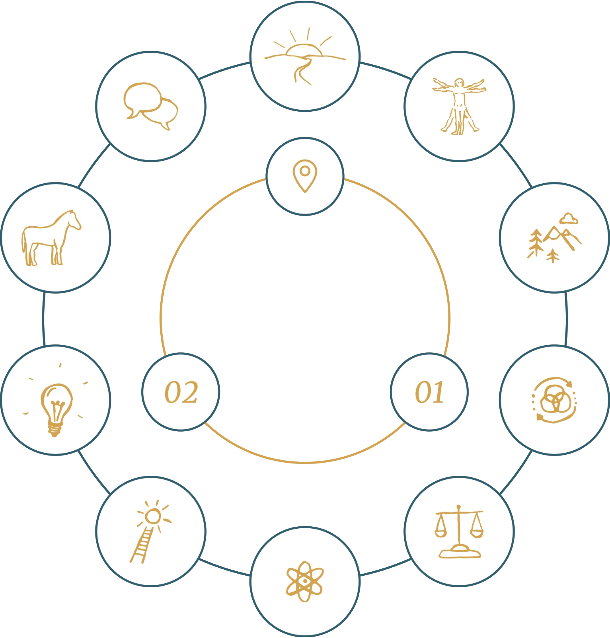 In the following pages, we explain the workshops that comprise the LEADERSHIP Coaching Workshop series, which are represented by the outer circle in the graphic on the left. The inner circle symbolises the sociologically oriented personal process that takes place alongside the workshops. The focus is on participants' development of their champion potential, not on a psychological approach to their own life history.
Once this development has started, you experience release from your familiar pattern, the way you've lived your life up to this point. However, this only occurs in relation to aspects where your life to date has been subconsciously restricting, limiting and damaging you.
Once you've overcome the first boundary (01), a process of increasing awareness begins. With each stage in your development, you now begin to grasp the world around you in a new way. New possibilities for your own life now increasingly emerge, potential you were previously not aware of.
The second boundary (02) is located at the point where your own core process is complete. It comprises the most unpleasant experiences that have so far not been processed by anyone in your family. If you overcome this second boundary, you'll have also overcome your greatest inner constraint. Now you can really live your life, free from any subconscious reactions to an unprocessed event.
The ten workshops in the LEADERSHIP cycle amount to a two-year series. You will of course receive a Further Training Certificate for each individual workshop you complete. You can also train as a coach and facilitator.
Discovering LEADERSHIP Principles, experiencing self-leadership, going through your own individual process towards your deepest vocation; embarking on personality development, facilitation, group work.
Discovering body signal work for yourself and interpreting body signals; symptom work; recognising and managing organisational signals; extracting signals from your capacity for somatic awareness; working with systemic roles.
This module focuses on cohesion, synergies and factors promoting success. Links and backgrounds are exposed in a group-dynamic process. You get answers and grow beyond your own limits. You understand that your life is in your own hands.
Resolving inner and external conflicts. Working with Anke Sommer's Co-operation Strategy with a view to resolving systemic conflicts. Using Anke Sommer's Role-model Cards as your starting point, you learn how to assess others' behaviour better. Emotional neutrality and reaction on the path to achieving your goal.
Looking at the positions of the angry person and their prey. Transforming anger and extracting yourself from (historical) anger cycles. Developing a positive force and using it to counterbalance negative aspects.
Locating your own calling, discovering and deploying your core skills, finding your deepest talents. The personality-development stage you've reached determines at what point you enter the process. Developing your inner champion.


Finding access to yourself, to your own 'I'. Avoid automatically imposing the mind as a form of control body over the 'ego'-perspective. Self-care arises from your 'I'.
Being connected to the body and your 'I'. Recognising the patterns, behaviours and thoughts that oppose your 'I'. Delimiting the threats to your 'I'. Pursuing your own life.
Guiding you through work with animals, communication with animals, using animals as a mirror of your own inner leadership behaviour, developing and strengthening non-verbal communication. Group processes with animals. Sharpening perception. Working with the Alpha principle.


Writing your life story and presenting your champion's path. Grasping the sociological rules of story telling and applying them to your own life. Status description: where am I on the development path? Understanding and living out your own champion's path. Developing your abilities. Transfer to the usefulness of story telling for organisations.
Investment in the workshop series from modules 1 to 10,
per module and participant: €599.00 plus VAT.
The entry module costs 749,00 EUR plus VAT (incl. 1 hour of introductory training in the LEADERSHIP work according to Anke Sommer).
Further Training Certificate, fee: €55.00.
Investment in the examination modules 11 + 12:
per module and participant: €750.00 plus VAT.
The price does not include costs for accommodation and board.
10 workshops over 2 years is equivalent to a series.
Participation is not limited to a series, it can last for any length of time.
Entry possible at any time.
Further education certificate.
CertificationMit der Zertifizierung wird Ihre LEADERSHIP Entwicklung innerhalb der LEADERSHIP Workshop – Reihe abgerundet. Lesen Sie hier mehr.... Read more as coach.
The time required for the workshop series modules 1-10: approx. 120 hours

Certification as a specialist coach (part 1 and part 2): 16 hours

Total time required up to the degree as a specialist coach (Running through the workshop series twice and certification part 1 and part 2): 256 hours

Every examination and certification is tailored to the selected focus point that emerges during an individual's personality development. Therefore, the coaches / facilitators we train are beyond any kind of competition, because skills cannot be copied.
Examination
Since the beginning of 2019, it is possible to take the examination to become a systemic LEADERSHIP coach after at least 4 years, i.e. after finishing 2 complete cycles.
Because of the particularly complex and compact content of the coaching education, participants need the time of at least 2 cycles to manage both their own personal development (which is obligatory to work as a LEADERSHIP coach) and to gain all relevant theoretical and practical coaching skills.