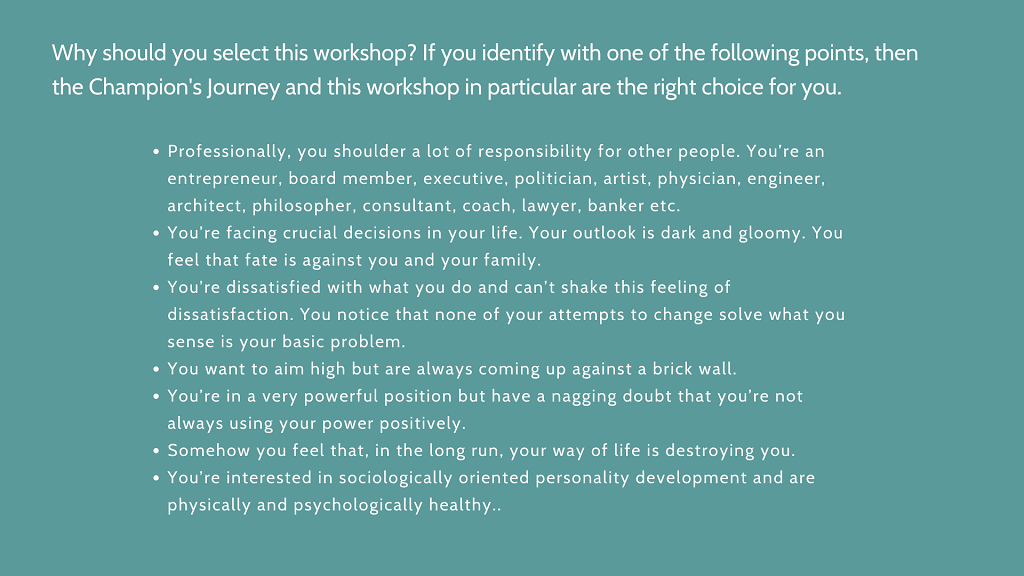 If you look at the world as a whole, then strictly speaking you're only a tiny part of it. Your lifetime is limited. You're influenced and you influence others through your behaviour. Choosing the Champion's Journey as a measure of your personal development will allow you to become more aware of the impact of your behaviour on yourself and others.
The longer you follow the Champion's JourneyThe term 'Champion's Journey' conceals a depiction of personality development in around 12 steps and implies a champion potential in everyone.... Read more developmental path, the more aware you'll become. You will feel, see, sense things that you've not perceived before and this will change your view of how things are connected. As you develop into a Champion, you will automatically take on more responsibility. Sociologically speaking, your importance for the world around you grows.
You're also likely to experience that not everyone around you is happy with the changes taking place in you. The reactions of people who don't accept them represent the way of life you've lived up to now. Some people will see the positive changes as a threat. You will learn to deal with this and to maintain a constructive approach. This makes you the Alpha personality, sociologically speaking.
If you start the Champion's Journey and follow the Champion's Path, your development will continue indefinitely.
Anke Sommer and her team will offer you objective, practical support to overcome your seemingly insurmountable inner limits. This approach is based on the sociological view of cause and effect.
If you decide to take this path, you will make every effort to leave negativity behind you and start living according to positive standards. This has a clearly definable impact on your physical well-being.
The benefits resulting from your actions will be seen and recognized from the outside. This will open up other opportunities and choices that you'll feel increasingly able to deal with, thanks to your development.
You can measure this effect by looking back over your development and seeing what's changed for you and in you.
One thing is certain: personality development and the Champion's Journey based on the SOMMER method is an active way to reset your compass: to positivity. Essentially, you'll spend the first few years becoming aware. You will discover what true reality is.
You'll realize that you've previously been living in the shadow of your subconscious past rather than in the reality of today. By recognizing present reality, you overcome your limits and can thus use your power for the first time for the benefit of the world.
REFERENCE BANNER
Design and composition: Canva