Your body and your heart carry you on their hands.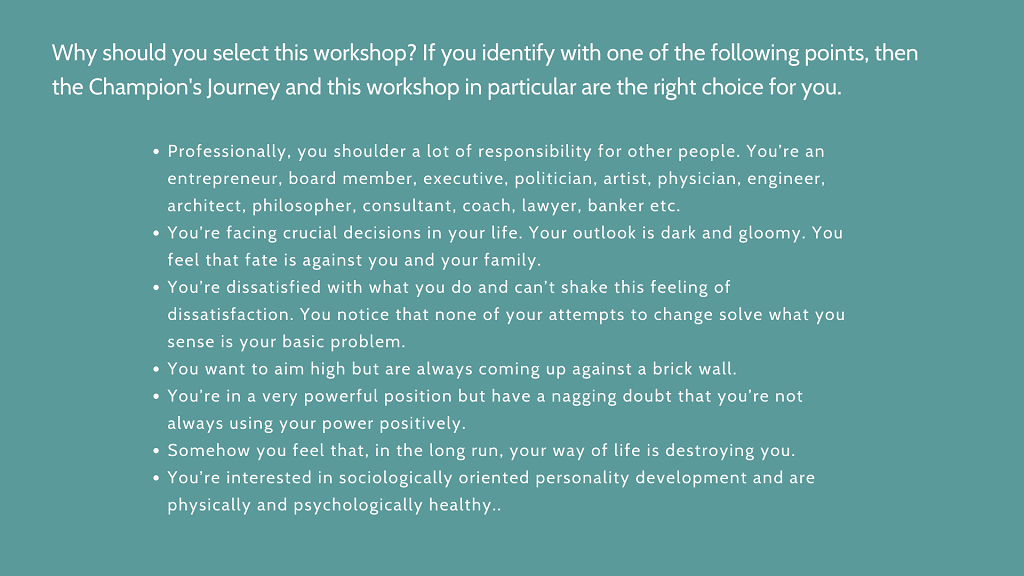 Positive profiling: gaining information and insights and using them positively.
This workshop is aimed at all those who recognize that their professional and private actions are of major significance for many other people. Is it your goal to use your limited lifetime and the power you possess in a meaningful and beneficial way?
If so, body signal work based on the SOMMER method and the associated profiling techniques will help you. You'll learn how to assess others and yourself accurately. All those in powerful positions and who bear responsibility for many people either directly or indirectly will gain valuable leadership know-how.
As a person with responsibility whatever your profession, in this LEADERSHIP workshop you will learn and apply the basics of profiling by working on yourself. You will understand the signals others give and thus also the body and its organic signals, which are expressed in the face.
This will allow you to take more responsibility for your own well-being and to make communication with other people more productive.
Please note that the taught techniques of the SOMMER method are based purely on the teachings of the heart.
Profiling techniques will help you to recognize the information behind a person's facial expression. You can transfer this knowledge to your professional practice and your interaction with other people.
Why is it important in your professional environment not only to see facial expressions but also to recognize their signals? How do you deal positively with the information acquired?
You will understand the behaviour of your fellow human beings better

You will gain insight into individual, interpersonal dynamics

You will recognize conflict signals and be able to take countermeasures in good time

You will learn to adapt your reactions to ensure your actions have positive consequences

You will create a positive working environment in which everyone feels comfortable and can be productive

You will be able to assess which of your reactions to your employees and/or colleagues will bring out their strengths

You will shape your dealings with customers and business partners on the basis of the information you have gained

You will thus build successful relationships with customers and business partners

You will understand your body and learn to listen to the messages your internal organs are sending you

You will learn relaxation exercises.
Above all, you will help others to communicate in the present, because the signals will tell you when your counterpart's actions are the result of a past wound.
Profiling techniques make you aware of signals that are due to subconscious processes. These may be contrary to what the person says or is pretending to be. By recognizing that an 'old film' is subconsciously running in your counterpart's mind the whole time (and sometimes even identifying which film), you can turn the situation around – simply by not becoming part of this film.
Self-management through body signal work.
With your growing awareness of signals and subconscious information, you will develop your perceptiveness. Your sense of your own body signals is the basis for obtaining information. Identify the body signals that reflect the needs arising from the inner body process:
Which movements and actions have a balancing and harmonizing effect on your body during the development process?
How do you protect and preserve your body and your creative power?
Which LEADERSHIP methods based on the SOMMER method can you also apply in order to escape from previously subconscious negative cycles and to overcome limits?
REFERENCE BANNER
Design and composition: Canva


The following video gives you additional information on body signal work based on the SOMMER method.